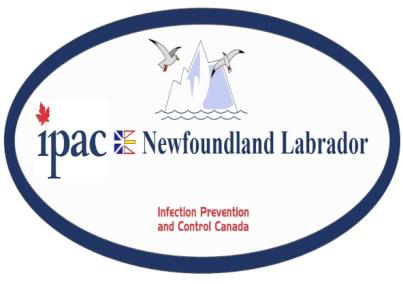 IPAC-NL is a Chapter of Infection Prevention and Control Canada.
TERMS OF REFERENCE
The following terms of reference of this organization support and relate to the By-laws of Infection Prevention and Control Canada-Prévention et contrôle des infections Canada.
Purpose and Objectives
2.1 Purpose:
IPAC-NL has been organized as a Chapter of IPAC-Canada to promote and maintain unity in the practice, education and promotion of the goals of IPAC Canada Strategic Plan, Mission, Vision and Values within the province of Newfoundland Labrador. To reduce the risk of infection across the care continuum through knowledge exchange, sharing experiences, ideas and information for the prevention and control of infections, and the collaboration and networking among persons interested in infection prevention and control (IPAC).
2.2 Objectives:
1. To promote and enhance IPAC expertise through individual and group activities.
2. To assist individual members in the development of their own IPAC program.
3. To hold multi-disciplinary educational conferences or seminars to update knowledge in IPAC.
4. To support and assist with research/study activities and the publication of results.
5. To identify and compile IPAC measures that have proven effective in specific areas of concern, including evidence-based practice guidelines, recommendations, position statements, etc. that maintain safe, effective and quality care.
6. To promote communication with members of the healthcare team across the continuum of care.
7. To assist individual members in their professional development in the field of infection prevention & control
8. To promote community awareness and understanding of the source of infection, the mode of transmission, and the means of control.
9. To act as an advocate for and increase awareness of IPAC practices and issues
Membership
3. Membership Dues:
3.1 Chapter Members must be members of IPAC Canada. Chapter dues are payable with IPAC national membership. A portion of the national membership dues will be reimbursed to the chapter designated by the member. 2
3.2 IPAC- NL members are welcome to invite guests to IPAC-NL (no more than two) meetings free of charge. Guests wishing to attend subsequent meetings will be provided with a membership form. Chapter dues are set by IPAC Canada.
3.3 The membership year shall be 12 months from the date membership is processed by IPAC Canada.
3.4 Membership renewal notices will be issued by IPAC Canada.
3.5 IPAC Canada will issue a monthly listing of current chapter members and a listing of those who have paid their fees in the period covered by the fee reimbursement cheque. These will be sent to the Treasurer and the Membership Director of the Chapter.
3.6 Additional reasonable assessments may be levied on Chapter members by the Chapter on approval of membership.
4. Membership Categories:
4.1 Chapter members are active, voting members of the chapter and IPAC Canada, with the exceptions below. They may hold office in the Chapter.
4.2 Student members have paid Student fees to IPAC Canada. They are non-voting. They may participate on committees but may not hold office in the Chapter.
4.3 Retired members have paid Retired fees to IPAC Canada. They are non-voting. They may participate on committees but may not hold office in the Chapter.
4.4 The Chapter may choose to bestow Honorary or Life membership to a chapter member based on criteria outlined in IPAC Canada Policy 8.62 as adopted by the Chapter. They are active, voting members of the Chapter. They may participate on committees.
4.5 A membership in the Chapter is terminated when:
a) the Member, Student Member, or Retired Member dies or resigns;
b) the Member, Student Member, Retired Member or Corporate Member is expelled, or their membership is otherwise terminated in accordance with IPAC Canada By-laws, Article 15.
c) the term of membership of the Active Member, Student Member, Retired member or Corporate Member expires and has not been renewed for a period of three months after expiry date; or
d) IPAC Canada is liquidated and dissolved under the Act.
4.6 IPAC-NL membership will be open to individuals, instructors, agencies, industry, and organizations interested in promoting the purposes and goals of IPAC-Canada.
Policies
5. Chapter Policies
5.1 The membership year is 12 months from the date membership is processed by IPAC Canada.
5.2 The fiscal year of the Chapter is January 1- December 31. 3
5.3 Minutes of committee and Chapter meetings shall be distributed to members via email.
5.4 Correspondence and financial documentation shall be kept for a minimum of 7 years. Audited financial statements, minutes and ongoing contracts are to be kept for the life of the Chapter.
Executive Members
6. Executive
6.1 The Executive shall direct, manage, operate and govern the association, and all their actions shall be subject to approval by the membership.
6.2 Details of the Executive responsibilities are outlined in the IPAC NL Chapter policies.
6.3 The Executive shall consist of President, President-elect, Past President (when applicable), Secretary, Treasurer, Novice Member, Chapter Webmaster, Education Director. The following executive positions are optional: Membership director, and education committee Chair. Additional positions may be added with the consent of membership. Positions may be combined except for the positions of President and Past President.
6.4 Individuals vacating positions on the Executive Committee prior to the completion of their term of office are required to submit a written resignation to IPAC-NL executive committee.
Terms of Office
7. Term of Office
7.1 The term of office of the President-elect, and Past President shall be one year, and president shall be 2 years. The term of office of all other positions on the Executive shall be two years with eligibility for re-election.
7.2 All terms commence on January 01. The outgoing Executive will coordinate a smooth transition to the incumbent.
7.3 Should vacancies occur during this term of office; the Executive shall fill such vacancy by appointment until the next election is held.
7.4 The members entitled to vote may, by resolution passed by at least two-thirds (2/3) of the votes cast at a special meeting of members held for that purpose, remove any Director before the expiry of his/her term of office. The members may then immediately elect a qualified successor to fill the vacancy for the duration of the term in question.
Nomination and Election
8.Nomination and Election Procedure
8.1 Only current, voting members of IPAC Canada and the Chapter may be nominated to the Executive.
8.2 Nomination forms and consents will be e-mailed to voting members on June 1 of the 4
voting year by the secretary.
8.3 Nominations forms and consents must be received by August 31 by email to the secretary.
8.4 Voting will occur at the Annual General Meeting by secret ballot if required.
8.5 Ballots will be counted by two not nominated members in the presence of the secretary.
8.6 in the event a face to face meeting and vote cannot be accommodated, voting will occur through an online secret voting technology
8.7 Results of the elections will be announced during the annual meeting of the voting year.
8.8 Where only one name is presented for any office, the nominee is elected by acclamation.
Meetings
9. 1 Executive Meetings
9.1.1. Executive meetings will be held monthly via conference call excluding July and August
9.1.2. There must be a simple majority of Executive members present to hold an Executive meeting.
9.1.3 Items brought forward to the Executive meeting for decision must be voted on by those members of the Executive who are present at the meeting.
9.1.4 The president or any member of the Executive Committee may call meetings of the Executive Committee.
9.2 General Meetings
9.2.1 Meetings will be held via the teleconference system, or virtual technology monthly excluding July, August and the month of IPAC-NL Annual Conference and/or Education Day.
9.2.2 The meeting will be held on the first Wednesday of every month.
9.2.4 Each meeting will include an educational component
9.2.5 An agenda will be sent to all members two weeks before the regular and annual meetings by email or mail.
9.2.6 Minutes of all regular, annual and special meetings will be kept by the Secretary and distributed to all members within 2 weeks following the meeting.
Committees
10.4 IPAC-NL Chapter members will be asked to represent the Chapter on various national committees. Examples of such committees are:
Education
Standards & Guidelines
Membership
Dialysis Interest Group
Long Term Care Interest Group 5
Oncology Interest Group
Pediatric and Neonatal Interest Group
Mental Health Interest Group
Prehospital Care Interest Group
Healthcare Facility Design and Construction Interest Group
Community Health Interest Group
Surveillance and Applied Epidemiology Interest Group
Environmental Health Interest Group
Reprocessing Interest Group
Cardiac Care interest group
10.5 The chapter will make every attempt to have a Chapter member attend the standing committee and interest group meetings held at the time of the national IPAC conference.
Quorum
A quorum consists of 50% of voting membership for both Executive and General meetings. Voting must be decided by 50% +1 of those in attendance.
Amendments
12.1 These Terms of Reference may be amended at any general meeting by an affirmative vote of the majority of those present provided that the proposed amendments have been submitted in writing to the membership a minimum of three (3) weeks prior to the meeting.
12.2 All amendments to the Terms of Reference must be forwarded to the Board of IPAC Canada for final approval.
Dissolution
On the winding up or dissolution of the organization, funds or assets remaining after all debt has been paid shall be transferred to IPAC Canada